---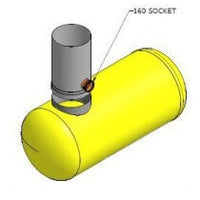 Reliable solution for the collection and retention of agricultural silage effluent or chemical toilet waste from caravan sites.
This tank is constructed from non-corrosive GRP materials with a special lining that prevents corrosion from chemicals or silage effluent.
Features And Benefits
Conforms to BS 6297: 1983 and the BS EN ISO 9001:2000
Internal baffle design within the tank aids separation and retention of solids, improving the effluent quality thus providing a long life to the soakaway.
Made from composite GRP - strong, light, chemically resistant and watertight.
Press moulded shape provides wide, squat, form which makes the tank easy to install and handle.
Stable base for storage.
Shackles are provided to aid lifting and positioning within the excavation.
All unit volumes are designed in accordance with the recommendations given in BS 6297: 1983.
The new manufacturing process minimises styrene emissions and reduces waste - better for the environment.
Dimensions
4,000 litres
Diameter - 1500mm
Length - 2504mm