---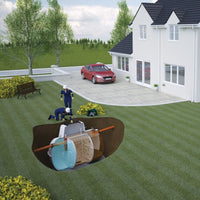 All manufacturers have a recommended service interval for each of their models and sizes of  sewage treatment plants. At Waste Water Supplies, we have maintenance manuals and design data for all manufactures system thus allowing us to service your system and make sure your manufacturers warranty is not voided through lack of maintenance.
Please contact us for details and costs of our Maintenance Agreement, which ensures that your sewage system is serviced at regular intervals according to the manufacturers recommendations and provides you with the following:
Why you should service your off mains drainage system;
To maintain your manufactures warranty

Make sure you are not breaking your EA discharge permits by discharging a poor quality of effluent and thus could be liable to a fine.

Make sure you are not clogging up you soakaway drainage field which could lead to your drainage system backing up.

If you come to sell your property you will be likely  asked for previous service reports of your existing drainage system.
What we offer from our service ;
We check your sewage plant is being correctly maintained according with the manufacturers instructions.

Prompt call outs.

Service report after each visit which you can keep for your records

Effluent quality testing if required

Advice on how to look after the system

Spare parts supplied and fitted quickly if required (* Extra cost if parts are required)

Servicing prices start at only £150.00 per visit.