---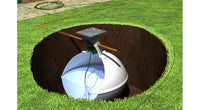 AquaBank is a range of simplified rainwater harvesting systems controlled by a pump, suitable for direct fed applications, and single or multi-residential applications. Operation of the system does not require a control panel, display panel or depth sensor.
Features and Benefits;
Simplified system design for rapid installation.
Quick-start set-up procedure.
Kit in a box of key components.
Delivered to site on single pallet.
Minimal energy use in operation.
Designed in accordance with BS 8515.
Kit of parts (direct or gravity):
Intelligent pump
Pump filter
3m supply hose
In-line filter
Solenoid
Tundish