---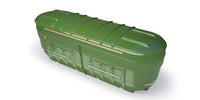 The Klargester BioDisc BG is suitable for 70 People
The Klargester BioDisc is the only sewage treatment plant to utilise the "Rotating Biological Contactor" (RBC) system to achieve the breaking down of pollutants plus generation of aerobic bacteria. This cost effective and adaptable solution to a range of domestic waste treatment requirements has been developed by Klargester over some 25 years.
The RBC system is designed and engineered to offer superior levels of reliability together with extremely low running costs.
Here are some of the many applications where the BioDisc system can be used:
Domestic dwellings
Farms
Pubs, Clubs & Hotels
Housing Estates
Offices
Industrial Estates
Schools, Colleges
Nursing & Care Homes
Caravan & Leisure Parks
 
BioDisc has been designed to meet the British Standards Code of practice BS6297 which relates to the design of domestic sewage treatment works. Effluent treated by a BioDisc unit can be safely discharged to a watercourse ( Approval required from Environmental Agency)
Benefits of the Klargester BioDisc;
Operates without noise and odour (one of the quietest sewage treatment plants on the market)
Low energy consumption – approx. 10-14p a day
Stable process, the BioDisc gives great performance by producing high levels of purification even under high loads.
Certified to EN12566-3 producing 95% pollution reduction - configured to produce a final effluent quality of 20 mg/l BOD5 (ATU)
Biochemical Oxygen Demand, 30 mg/l suspended solids.
Variable invert options for shallow and deep installations.
Unique Design
The Klargester BioDisc is the only packaged sewage treatment plant using Rotating Biological Contactor technology for domestic applications. This process offers low cost and high performance benefits with low carbon emissions.  
Assured Performance
Klargester BioDisc is a very high-performance sewage treatment plant that, in standard domestic homes, will produce wastewater qualities of better than 15mg/l BOD*, 25mg/l SS and 3.8mg/l ammonia.
*Wastewater from sewage treatment plants contains organic materials that are decomposed by microorganisms, which make use of oxygen in the process – the amount of oxygen consumed by these organisms in breaking down the waste is known as the 'biochemical oxygen demand' or BOD.
Low Running Costs   Klargester BioDisc has the lowest operational and maintenance costs of any sewage treatment plant in its field. The single home unit needs a yearly de-sludge only, the motor rating is 50 watts and routine maintenance is minimal.
Low Lifetime Costs
Lowest running costs with the quality of build and strength of the equipment - mainly the drive motor that has a much longer service life than the pumps and compressors fitted to other units - all add up to a lower lifetime cost for the Klargester BioDisc.
Process Stability
The Klargester BioDisc is known for its treatment performance. This is further enhanced by Klargester's Managed Flow System, which ensures great performance by smoothing peak flows and buffering biological loads over the working day.
Dispersal
Subject to relevant authority consent and site conditions, the plant discharge can be to a watercourse or to a drainage field.
How the BioDisc works;
Primary Settlement Tank (PST)
Sewage is received and heavier solids are separated and retained for periodic removal. Liquid levels in the PST fluctuate to accommodate incoming flow surges. 
First Stage Biozone
Settled liquor moves from the PST to the first stage Biozone where it meets natural micro-organisms (biomass) which in turn colonise the surface of the polypropylene discs or media.
This first stage in the biological treatment process performs what is called a 'roughing stage' by absorbing fluctuations both in the Biochemical Oxygen Demand (BOD) and vitally in detergent levels which could otherwise hinder the biological action in the second stage.
BioDisc has a patented managed flow system which then transfers the liquor to Stage 2 of the Biozone at a constant rate.
Second Stage Biozone
Biological treatment conditions are now optimised at this stage since the liquid level is constant.
The media is now partially submerged and as it rotates, the biomass is immersed into the liquor for absorbtion and digestion of waste alternating with exposure to the atmosphere for oxygenation – since this is an 'aerobic' biological process the bacteria being used require an oxygen supply. 
Final Settlement Tank (FST)
In this final stage liquor containing excess biomass forms as fine settled solids or 'humus'. This biomass enters the FST via a submerged transfer pipe. Humus is settled out and retained for periodic removal at the same time as the sludge in the PST.