---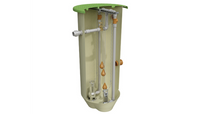 A pump station is a chamber housing an internal electric pump/s. They are designed to move water or sewage uphill and/or over a long distance, where the gravity of the drainage runs is insufficient to provide the appropriate flow rate. 
The Klargester pump station chambers come in many different sizes depending on the required storage capacity. All domestic pump stations used for sewage must house minimum 24 hours storage, this is in case of a fault with the pump or a power cut where there is no electricity feeding the pump(s).
Quick and simple to install, our premium quality Pumpstor Domestic and Domestic+ pumping stations require minimal maintenance, saving you time and money. Our domestic pumps come fully equipped with single and twin pumps and are suitable for sewage, surface water and effluent.
Features and benefits;
Invert Height 1.3m
Made with super-tough, low maintenance GRP and high-quality polyethylene for guaranteed durability
Comes with options of monitoring systems
Engineered with the highest quality parts and fittings
Can also be used for 24-hour storage requirements
Designed with easy access features for maintenance
Service and maintenance plans available to prolong the life of the pump systems
Choose from either 110mm or 160mm inlet connections 
Lockable covers for optimum security 
Quick connection outlet couplings