---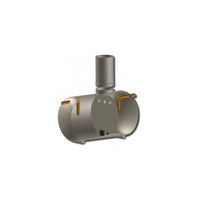 The Conder range of GNS Grease Traps/Separators works through a simple two-chamber tank where wastewater enters the primary chamber and debris settles. The wastewater then flows into the gravity separation chamber where grease and oil rise to the surface. 
A low-level pipe removes the separated water from the secondary chamber and releases it to the drainage system. The surface layer of grease will remain inside the tank until it is removed by a Waste Disposal company. 
Conder grease traps will, by the removal of fat and grease:
Greatly reduce incidents of blocked drains from catering establishments • Improve the performance of septic tanks and field drains • Prevent contamination of small sewage treatment plants
Grease traps are designed for small restaurants, public houses and canteens
Operation & Installation
Traps and separators allow fats and grease to naturally separate out from water, allowing their removal prior to the wastewater reaching the drainage system. The trap or separator should be installed close to the source of contamination before any foul waste can enter the drainage flow and to suit the expected liquid temperature.
Alarm Options
Environment Agency PPG3 Guidelines stipulate that all separators must be fitted with a robust system to provide an audible and visual alarm if the grease level becomes too high. We strongly recommend that you purchase the Separator Grease Alarm alongside this item, it will be delivered with the separator ready to wire in.
Dimensions;
Diameter - 1.2m
Length - 3.9m
Pipe Size - 150mm
Max Meals - 500