---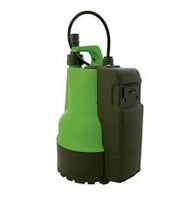 Sale
The Ego 500 Gi pumps are designed for handling clean, dirty or slightly polluted water. They feature an integral float switch, making them particularly useful for tight sump and restricted access applications.

At the flick of a switch, these models can be locked into either automatic or manual operation. In automatic mode the pump will start at approx. 115mm and pump down to a level of approx. 55mm. On manual, the pump will pump down to 9mm, but should not be left unattended to run dry.

• Built-in thermal protection with auto reset
• Suitable for continuous duty up to 35°C
• Open impeller for 9mm soft solids passage
• 10m H07RN-F cable and plug as standard
• Supplied with non-return valve and
• variable hosetail as standard.

Materials
The EGO 500 Gi is designed for heavy duty applications using antioxidant and corrosion resistant materials. Pump casing, body and impeller in PPS (Polyphenylene Sulphide) Stainless steel motor casing/shaft.
Special wear resistant shaft coating.
Special triple shaft seal.
Free delivery to UK Mainland sites (Scottish Highlands excl., please contact us for a delivery prices).
Offloading is the Customers

 

responsibility 
Delivery dates are subject to change with respect to product availability