---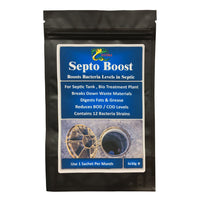 Powder based bacteria / enzyme, easy to use water soluble sachets
Balanced blend nutrients, enzymes, micro-organisms improve performance
Ensures properly functioning septic tanks, treat monthly via toilet
Shelf life 2 years, use 1 sachet per month
Features & Advantages
Use Septo Boost in cesspools, cesspits and septic tanks to achieve efficient breakdown of waste material.
Helps in maintaining bio-system inside the septic tanks by contributing and promoting the growth of naturally present microorganisms.
Select combination of bacteria for effective degeneration of grease, vegetable waste, proteins, fats or soap scum.
Eliminates the nuisance of seepage, bad odour, and overflow by removing buildups inside the tank and increasing its capacity to hold more effluent.
Rejuvenates soak-away by removing the bio mat/ sludge layer and improving the quality of treated water escaping the field.
Better choice over harsh chemicals that harm the environment and are dangerous to handle.
Smoothly running drains, no more instances of backups in shower or bath area and basins.
Use regularly to prevent, keep away rodents and insects.
How To Use
Initial treatment:
Use 1 sachet each on 1st, 3rd and 6th day of the treatment.
Maintenance treatment:
Use single sachet a month to maintain smoothly running septic tanks.
Application Procedure:
Hydra Septo Boost is simple to use. To get optimum result, apply the product at night when least inflow is expected in the tank. The water soluble sachets of Hydra Septo Boost could be simply dropped in the toilet bowl. Wait for some time, until the cover and powder dissolves. Flush. Septo Boost reaches the tank through pipe work and begins immediate action.
Full instructions on the label.
Description
Hydra Septo Boost is a septic bacterial treatment that helps in maintaining odour free, smooth running drains. The product drastically reduces the instances of sewage backups and overflowing drains. Use in Klargester septic tanks, cesspools, septic tanks and cess pits. Septo boost acts upon and liquefies starch, oils, cellulose and grease. The powerful bacterial blend degenerate proteins as well as harmful chemicals that leach into the septic systems through indiscriminate use of household products meant for cleaning.
Water soluble packets of septo boost are convenient to use and can be easily dropped in the toilet bowls, without mess.  Maintains optimum number of powerful friendly microbes in the tank and keeps away blockages or build ups in the pipework.
Try Hydra Septo Boost if all other products with septic tank bacteria have failed to work in your system.