---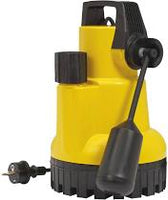 Sale
Ama Drainer 301 fully automatic sump pump.
Applications
Automatic drainage of pits, shafts, yards and cellars subject to a flooding risk
Lowering the surface water level
Drainage of underground passages
Extraction of water from rivers and reservoirs
General drainage
Design
Vertical, fully floodable submersible motor pumps in close--coupled design, IP 68, single--stage, with swing check valve.
Pump control by float switch.
External control possible if equipped with 10 m motor lead.
Max. immersion depth 2m.
6.5m lift
10,000lph
0.43kW
1.9amp
4.76kg