---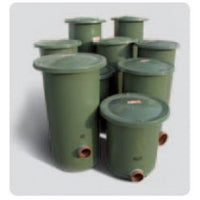 Sale
This great offer of a half priced Klargester sample chamber is available when purchasing the following;
Klargester Septic Tank

Clearwater Septic Tank

Klargester Pump Station

Clearwater Pump Station

Any Klargester Sewage Treatment Plant

Any Clearwater Sewage Treatment Plant
Description
Sample chambers are larger than access chambers and inspection chambers, typically 500mm diameter and 1000mm deep. They provide access for maintenance equipment and are ideal rodding points.
Inspection chambers should not be confused with sample chambers, an inspection chamber will not allow for rodding or any maintenance.
The Kingspan sample chamber dimensions;
Overall depth - 1333mm

Inlet depth - 1093mm

Diameter - 490mm

Inlet & outlet pipe diameter 110mm/160mm
Delivery
Delivery is free with any septic tank, sewage treatment plant or pump station from Klargester or Clearwater.